Main Page
Jump to navigation
Jump to search
Welcome to CityLab, the City of Things smart cities FIRE testbed.
This testbed is intended for wireless networking experimentation in the unlicensed spectrum. It is located in the city center of Antwerp, Belgium, and belongs to the University of Antwerp/imec. The testbed can be found in the streets in and around the city campus of the University of Antwerp, in an area of about 0.5km by 0.5km. See below for a map of the testbed.
Introduction
Hardware currently is hosted at 32 locations with another 22 planned,. Each location has its own gateway attached to houses in the street or installed on a pole on a roof. See Node Locations.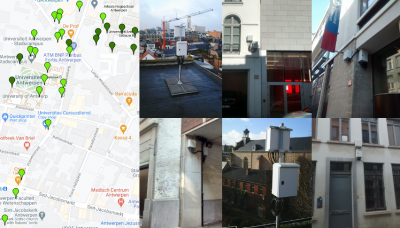 The following technologies are deployed in the Citylab testbed:
WiFi 802.11ac on 2.4 GHz and 5GHz
WiFi 802.11n on 2.4 GHz and 5GHz
Bluetooth 4.0
IEEE 802.15.4 on 2.4 GHz and IEEE 802.15.4g on 868MHz
DASH7 on 433MHz and 868MHz
LoRaWAN on 868MHz (client only)
For more information about the exact hardware use, please conssult the Node Specifications page.
CityLab is part of the larger imec iLab.t testbed offer.
Listed below are a number of pages that should help you to get stated on the CityLab testbed. Since this Wiki is still very much a work in progress the documentation is far from complete. If you get stuck or you have a question and you can't find the answer on this wiki, please don't hesitate to contact us. You can reach us at . We'll be happy to help you along and update the documentation where necessary.
Since July 2019 some of the Citylab nodes have been equipped with an ath9k WiFi card to facilitate experiments that require more low-level "tinkering" with the WiFi-stack. See this page and this page for more information.
Update: Since January 2020 it is no longer needed to be a member of the CityOfThings project on the legacy iMinds Authority. Instead, authorisation to use Citylab can be requested for individual JFed-projects by sending an e-mail to . Once a project has been authorised all its members will automatically be granted access. See the Getting Started guide for more information.
Some Useful Pages
Testbed nodes
A full-screen version of this map can be found here. An explanation on how to use this map can be found here.
Fire at City Campus University of Antwerp
On the 6th of July 2022 there was a huge fire at the City Campus of the University of Antwerp. Since most of the Citylab nodes are deployed on that campus, this fire has also caused a large number of nodes of the Citylab testbed to go down. This section contains the latest status on the citylab testbed and will be updated when new information becomes available.
Update (2022/07/13 14:27):
Since the last update nodes 23, 25, 33 and 36 have also come back online.
Update (2022/07/08 14:52):
Since yesterday, some citylab nodes have started coming back online as a result of power being restored to (some of) the buildings.
Currently:
Nodes 12, 14-18,21,24,27-28 have come back online
Nodes 7-11,13,19,22,23,25,26,32-36 are still offline
Nodes 2-6, 71-74 were unaffected by the fire and are still operational
Update (2022/07/07 10:32):
Currently:
Nodes 7-19, 21-28, 33-36 are offline as a result of the fire.
Nodes 2-6, 71-74 are unaffected by the fire
At this point it is not clear when each of the downed nodes will be brought back online. We suspect that many of the downed nodes went offline as a result of the Fire Department cutting electricity to some of the buildings and we hope to be able to bring those nodes back online in the not too distant future.
Some of the downed nodes however are deployed against the buildings that suffered the most damage and their future is not at all certain. It is quite possible that these nodes will either remain offline for an extensive period of time or will have to be removed from the testbed permanently.